Tarot Blog Hop Spanish / English
The Lovers card is all about choices, looking at it, I can think of 5 aspects to search for in the reading:
When in need to make a choice, ask The Lovers:
Card # 1 next to the apple tree, tentation, what about taking this path makes you tingle, something that may make you feel right and wrong.
Card # 2 next to the tree of life, what about taking this path, gratifies you with passion.
Card # 3 on top of the angel, what graces you, what believe it or not, keeps you sane.
Card #4 at the bottom, the root of the volcano. What needs to be kept contained, in control.
*Feel free to take more than 1 card if you need to clarify positions. I used 2 in all four positions
Example: I want to participate at a conference and at the same time wonder if I should go.  
I will take out The Lovers and 1 card, for of the 4 positions.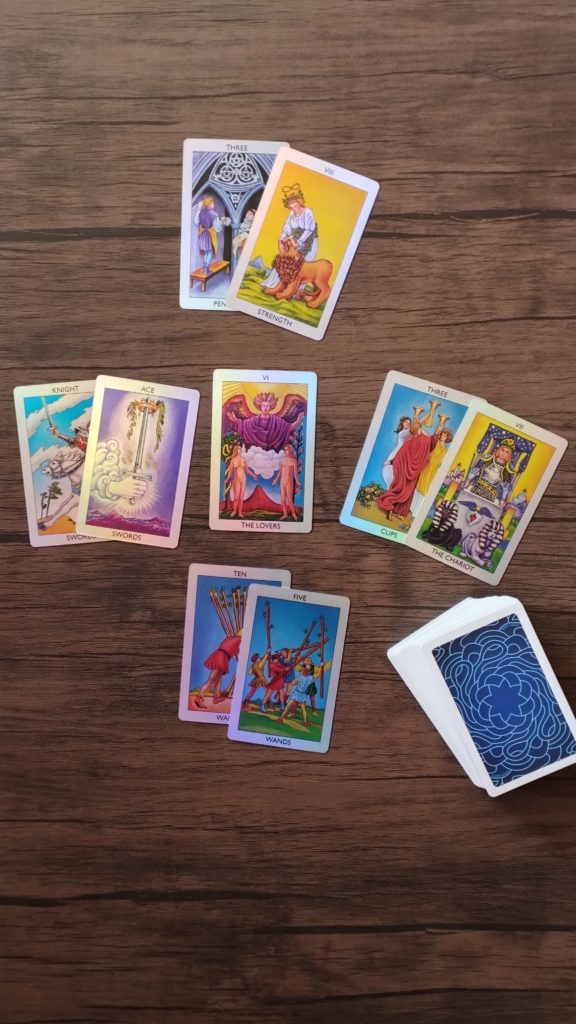 What I need to know about going to a Tarot conference:
Card # 1: The knight of swords:Something about moving fast (maybe between conferences) makes me feel good and mischievous.
Card # 2 The three of cups, to reunite with people that love Tarot, to, learn and have fun with them is extraordinary and gratifies with me passion.
Card# 3 What keeps me sane is the 3 of coins, my team, my family, the people that work close to me give me peace.
Card # 4 What needs to be contained, the 10 of wands, trying to carry too much, many things at once.
Extra cards for clarification: I will take out 1 more card for each of the 4 positions.
Card # 1: The knight of swords + The Ace of swords: This combination makes me think and feel that I should embrace the idea of going to the conference instead of feeling guilty or bad about it.
Card #2 The 3 of cups + The Chariot: This combination screams celebration with advancement.
Card# 3 The 3 of coins + Strength:This combinationsuggests that I´ve got strong company, a good team of people that is close to me regardless of my decision.
Card# 4 The 10 of wands + 5 of wands: This combination invites me to delegate, to control my burden, not to overload.
If you enjoy this spread, please write a comment or share this Blog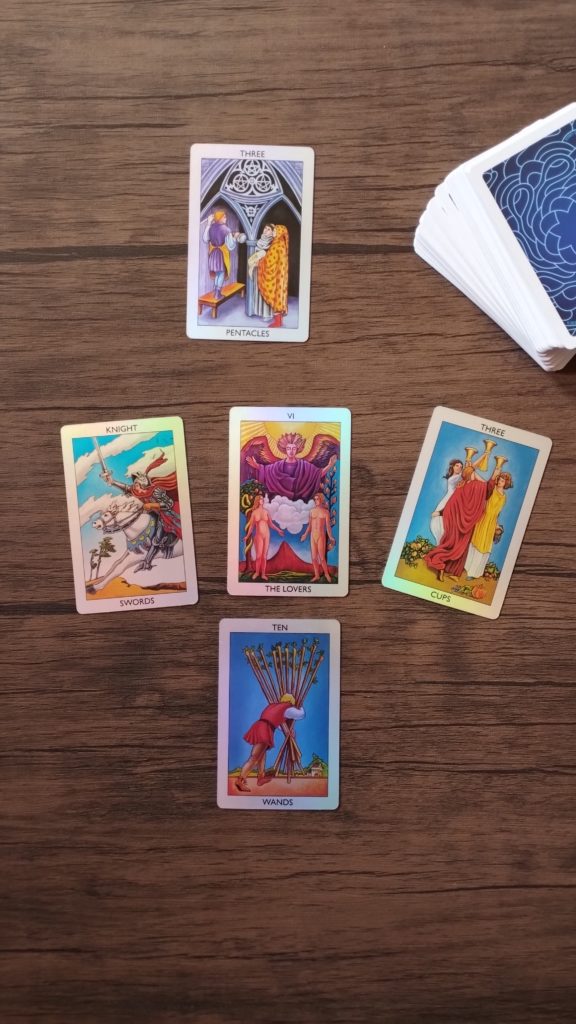 Lectura para el Blog Beltane, celebrado el 1 de mayo
Tarot Blog Hop Spanish / English
La carta Los Enamorados, que nos habla de la capacidad de tomar elecciones, nos dará la pauta para pensar en 5 aspectos para indagar en la lectura:
Cuando necesites tomar una lección pregúntale Los Enamorados:
Carta # 1 junto al árbol de manzana, me habla de tentación. Algo sobre tomar esta decisión te emociona y a la vez te hace sentir de mal.
Carta # 2 junto al árbol de la vida, algo sobre esta decisión te llena de pasión.
Carta # 3 sobre el ángel, esto te mantiene sana y salva, lo que te da paz.
Carta #4 bajo el volcán, lo que necesitas mantener contenido y controlado.
*Siente la libertad de sacar una segunda carta como en mi ejemplo en caso de necesitar clarificar la primera.
Ejemplo: Quiero participar de una conferencia pero me pregunto si deba ir.
Buscaré la carta de Los Enamorados y sacaré 4 cartas más: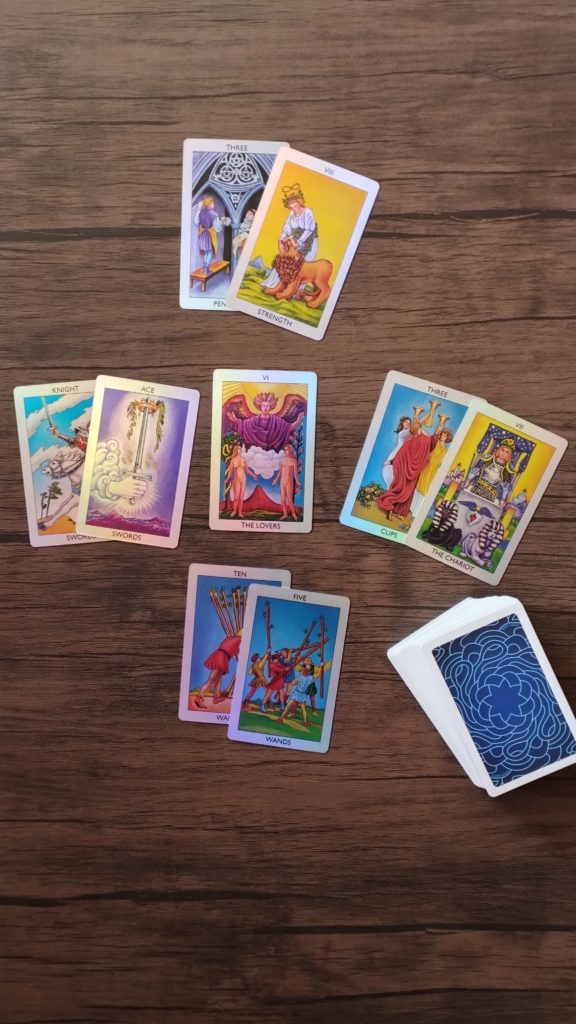 Lo que necesito saber sobre tomar la decisión de ir a la conferencia:
Carta # 1: El Caballero de Espadas:Algo sobre avanzar rápidamente (tal vez entre conferencias) me hace sentir bien y a la vez maliciosa.
Carta # 2 El 3 de Copas, es extraordinario juntarme con personas que al igual que yo aman el tarot para divertirnos aprendiendo. Esto me llena de pasión por lo que hago y me motiva.
Carta # 3 El 3 de oros, mi equipo, las personas que trabajan junto a mi, mi comunidad me da paz.
Carta # 4 El 10 de bastos, lo que necesito contener, intento cargar demasiado, hacer muchas cosas a la vez.
Cartas extra para clarificar:
Carta # 1: El Caballero de Espadas + el as de Espadas: Esta combinación me hace sentir que debería de acoger la idea de ir a la conferencia en lugar de sentirme mal por querer participar en ella.
Carta # 2 El 3 de Copas+ El Carro: Esta combinación grita: ¡celebración con avance!
Carta # 3 El 3 de oros+ La Fuerza: Esta combinación sugiere muy buena compañía. Un buen equipo de personas que me dan paz.
Carta # 4 El 10 de bastos+ el 5 de bastos:Esta combinación me invita a delegar, a controlar mi carga, a no sobre cargarme.
Si disfrutaste esta lectura no te olvides de comentar o compartir este Blog
PREVIOUS BLOG
|
NEXT BLOG

Soy tarotista desde hace más de 20 años y quiero acompañarte en tu camino aprendiendo sobre el tarot.
Bióloga graduada de Rowan University de New Jersey, con maestría en conservación forestal en la Universidad Agraria de La Molina y coach; ahora me dedico a mi verdadera pasión. Esta página es un espacio donde te ayudaré a que desarrolles la capacidad de interpretar el tarot y crear mensajes significativos.
Soy María Luisa Salazar y quiero acompañarte en tu evolución personal con el tarot para que logres fluir con las cartas a través de tu intuición.